Reliable Pest Control Services In Belmont, California
The city of Belmont, CA enjoys the Mediterranean climate typical of the San Francisco Bay area. Our summers are warm and dry, our winters are wet and mild, and unfortunately, all-year-round, our conditions are very inviting of pest activity. That means that Belmont homes and businesses, as well as surrounding properties throughout San Mateo County, are extremely susceptible to infestation. The best method of pest protection is from a team of qualified experts, and if you're in need of those experts, you've come to the right place.

Bay Pest Solutions services homes and businesses throughout Belmont and the surrounding areas with comprehensive pest control solutions. Our highly qualified team of pest experts is committed to providing unparalleled customer service. No matter what kind of pest problems you're dealing with, give us a call today. We will work together to come up with the best plan of action to address your infestation. Our customers always come first, and the licensed service technicians at Bay Pest Solutions work hard to cater to your needs.
Residential Pest Control in Belmont, CA
Your Belmont home is where you and your loved ones should feel totally safe and protected. Unfortunately, dangerous, nuisance pests threaten that sense of security. Household pest infestation causes structural damage, contamination, and adverse health reactions, which is why it's so important to get the proper protection. Here at Bay Pest Solutions, our residential pest control services are used by over 1,500 homeowners, and we stand behind our dependability.

Once we detect the nature of the infestation, we work with you to come up with the right treatment plan to fit your needs. From the interior to the exterior, we cover every nook and cranny of your residence, giving you the year-round pest protection that you and your loved ones deserve. Give us a call to discuss your residential pest control needs, and we'll get your initial inspection on the calendar right away.
What You Can Do To Prevent Rodents In Belmont, CA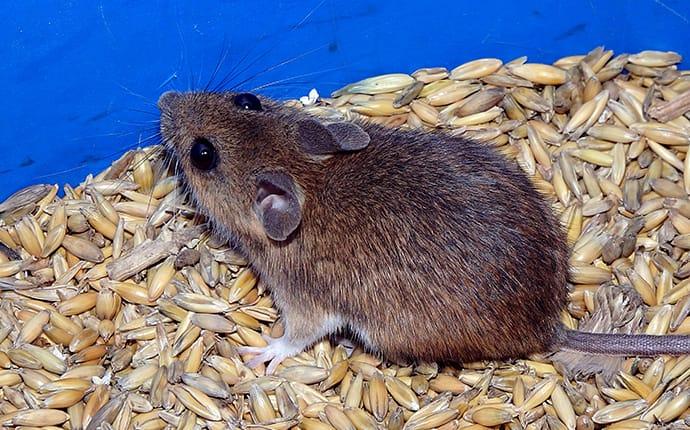 Rodents are unsanitary pests that absolutely no one wants to deal with. What would you do if you discovered one in your Belmont home or business? It's very upsetting, and can quickly lead to a full-blown infestation that can put your health and safety at risk. In order to prevent rodents from entering your building, try the following:
Eliminate accessible food sources.

Keep the place clean and tidy; reduce clutter.

Promptly wipe up spills and food residue.

Reduce excess moisture around the home.

Regularly take the garbage out and keep it in sealed trash bins.

Store food in tightly sealed, gnaw-proof containers.

Store wood away from the perimeter's foundation.
Even if you do all of the above, rodents still may find a way inside. If all else fails at protecting your property from rodent activity, call the team at Bay Pest Solutions. We offer comprehensive rodent control services that are effective, efficient, and everlasting. Call us today to schedule an inspection.
What's Attracting Ants To Your Belmont, CA Property?
When you see one ant, the other members of their colony aren't far behind. Before you know it, there are hundreds of thousands of them and you can't understand why. What brought them here? Well, there are in fact are a few ant attractants that you should eliminate in and around your property. The main goal to remember is to reduce sources of food, water, and shelter.

Begin by getting rid of excess moisture around the property, eliminating damp wood sources, as well as sources of standing water. Be sure to clean any dirty countertops, spills, and sugary substances right away. Also, make sure to properly store all food sources, including pet food and other easily accessible items.

Ant infestation is frustrating and very hard to deal with on your own. The good thing is, you don't have to! The team at Bay Pest Solutions offers year-round ant protection that you can depend on. We will detect all ant activity, eliminate the colonies and any conducive conditions, and then return for follow-up treatment and maintenance as needed. Give us a call today to set up your initial inspection.
Commercial Pest Control In Belmont, CA
If you want your business to succeed, it's very important to safeguard your property from outside harm, including pests. When pests get into your Belmont business, they wreak havoc in every possible way. The best way to protect your facility from the dangers of an infestation is to contact a team of highly experienced pest professionals, and luckily, you've come to the right place.

Bay Pest Solutions provides commercial pest control services to a wide range of properties, including retail stores, property management, restaurants, industrial warehouses, and many others. After detecting the source of the problem, all active areas, and harborage spots, we come up with an appropriate treatment strategy to target your infestation from the inside out. Then, we return once a month to make sure your business stays pest-free all year long. Call us today to discuss your commercial pest control needs and how we can be of service.
Schedule Your Free Inspection
Complete the form below to schedule your no obligation inspection with Bay Pest.