Reliable Pest Control Services In Atherton, California
Just 25 miles from the big city, the community of Atherton, CA, is one of the wealthiest and most impressive towns in all of San Mateo County. With the San Francisco Bay just north of town, we have beautiful scenes of mother nature to enjoy all year round. Between the beautiful nature and the affluent houses, it's no wonder why so many are eager to make a home for themselves here in Atherton. Pests are no exceptions. They seek entry onto your property to access food, water, and shelter sources. That puts your home and/or business at risk of infestation.

The best and most effective way to deal with a pest infestation is to call in a team of qualified pest professionals. For the "Bay's best in pest", look no further than Bay Pest Solutions. We are local California pest control operators with a steadfast commitment to the care of the people in our communities. Whatever kind of pest problem you're facing, we're here to help. Every pest infestation is different, and that's why we approach every situation in its own unique way. Reach out to us today to set up your initial inspection.
Residential Pest Control In Atherton, California
If you want to protect your Atherton home from the detriments of pest activity, there's only one way to go. It's crucial to call on the pest experts to get the help you deserve. Bay Pest Solutions services over 1,500 homes in the area with complete residential pest control solutions. Atherton homeowners count on us to give them year-round pest protection, and we're here to serve.

We identify entry points and conducive conditions around your property to better familiarize ourselves with your pest situation. From there, we utilize IPM (Integrated Pest Management) strategies to target the issue at its core. Once treatment is completed, we don't stop there. Our quarterly service visits guarantee year-round protection that you can count on. Contact us today to learn more and we'll schedule your inspection immediately.
How To Prevent Spider Activity On Your Atherton, California Property
In order to prevent spiders from infesting your home, you're going to want to prevent insects. Why? Because insects are spiders' main source of food and they tend to gravitate towards areas with high insect activity. Spiders love to eat flies, mosquitoes, roaches, beetles, and any other small insects that they can catch in their web. In addition to preventing insects, try some of these other preventative tips to keep spiders off your Atherton property:
Seal up any openings, cracks, and crevices that insects and spiders can enter through.

Remove spider webs and egg sacs using a vacuum, and dispose of the vacuum bag in a trash bin with a fitted lid.

Maintain proper drainage and reduce excess moisture in and around your space.

Keep vegetation nice and trim.

Remove weeds and debris from your property.

Shake out your shoes, clothing, towels, and linens.

Reduce clutter as spiders love to hide in piles.
The most effective way to deal with a spider infestation is to call in the experts. The team at Bay Pest Solutions offers reliable spider control and prevention services that Atherton property owners can count on all year long. Give us a call today to discuss your spider control needs and we'll get the ball rolling.
3 Things That All Atherton, CA Property Owners Should Know About Termites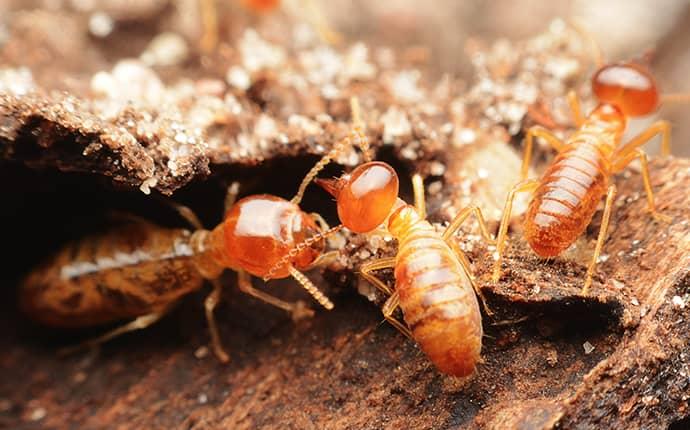 Termites are small, but they have some big consequences. When it comes to understanding termite infestation, there are a lot of things that property owners ought to keep in mind. Here are three important factors to consider in your termite control efforts:
Some people see what looks like white ants crawling around, but they aren't ants. They're actually worker termites that are a light, translucent, cream color. They dig through the dirt in the ground to make gallery tunnels, allowing their colonies to spread from one area to another.

Termites are moisture pests. They are attracted to water-damaged, rotting wood that is moistened and easy to eat through. They also produce moisture of their own. The moisture gets into the wood, damaging it further until it's completely destroyed.

Termite damage can be detrimental. Repairs can cost you thousands of dollars, and many people don't know this, but termite damage is not covered on most home insurance plans.
The best way to protect your Atherton property from termites is to rely on a team of qualified pest professionals. Here at Bay Pest Solutions, we are highly experienced in the successful detection, extermination, and prevention of dangerous termite activity, and we're ready to help you. Call us today to learn more.
Commercial Pest Control In Atherton, California
Your Atherton business is full of pest attractants, meaning nuisance pests aren't far away. When pests get into your business, they pose many dangers to the facility and the people inside of it. In addition to the long list of health and safety threats posed by pest infestation, there's also the irreparable damage done to your reputation. It can be hard for a business to recover from infestation, which is why avoiding one in the first place is so important.

Here at Bay Pest Solutions, we're proud to offer complete commercial pest control services to a long list of local businesses. After conducting an extensive inspection, we determine the appropriate strategy to treat your property from the inside out. Our interior and exterior service options are catered to meet your needs, and we will work with you to strategically develop the most fitting plan of action for you. Reach out to us to discuss your commercial pest control needs today.
Schedule Your Free Inspection
Complete the form below to schedule your no obligation inspection with Bay Pest.