When it comes to black widow spiders, there is good news and bad news. The good news is the black widows don't prefer to live inside Bay Area homes. It is rare for these spiders to choose to establish an interior web. The bad news is that they commonly establish themselves in yards, sheds, holes, woodpiles, brush piles, the voids within swing sets, and other places on Bay Area properties. If you aren't paying attention, you could accidentally put your hand in the wrong place and get bitten. The best way to avoid unwanted contact with black widow spiders is to have few or no black widow spiders on your property. Here's how you can accomplish this.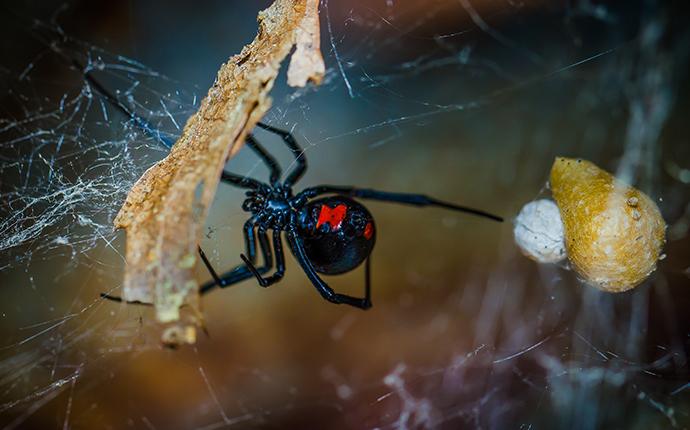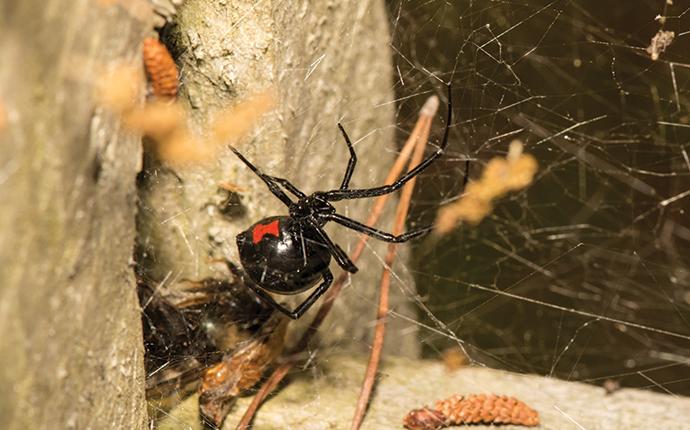 Stay On Top Of Yard Maintenance
Black widow spiders love to hide in brush piles. If you collect dead branches and stack them in your yard, you can expect to have a black widow spiders take notice. We recommend burning sticks if you're able. If not, consider removing them on the day you collect them.

Black widows get into leaf piles and they love getting under structures that have leaves under them. Use a blower to get leaves out of structural voids and landscaping.
Keep Your Landscaping Trimmed
A black widow spider will love your landscaping if there are dense areas that provide hiding places underneath. Trim your bushes near the base to keep things open and unfriendly to black widows.

Remove unnecessary vegetation and weeds that provide concealment for black widows that get into your landscaping or between your landscaping and your exterior walls.
Remove Wood Piles
There are many reasons why you might stack wood in your yard. You may keep wood for backyard cookouts. You might have wood scraps that are left over from a building project. You might have construction materials stored in your backyard. If you have wood stacked in your yard, consider removing it from your property, burning it, or storing it away from your home. If you store wood in your backyard, elevate it to make it less interesting to black widow spiders (and also many other unwanted pests, such as termites, carpenter ants, etc).
Remove Yard Clutter
Black widow spiders can hide underneath, and inside, man-made objects. If you have objects that don't need to be in your yard, particularly objects that are in a stack or that offer concealed spaces within, remove them. Black widows can surprise you or your kids by hiding in unexpected places.
Address Openings That Lead To Voids
If you have an object in your yard that has a void within, such as a playset for your children, make sure there are no openings that allow spiders to get inside. As your kids play on their backyard playset, the last thing they're thinking about is the possibility that a spider could be hiding in a dark hole in the equipment.
Remove Water Sources And Address Moist Habitats
Water is a building block of life? If you have water resources in your yard, they can invite many pests to come into your yard, not the least of which is black widow spiders.
Remove objects that act as containers.
Address conditions that cause oversaturation and puddles to form.
Address Potential Entry Points
When a black widow explores your exterior, the last thing you want is for it to find an easy entry point, particularly one that is inviting, such as a gap in a piece of rotted wood. When moisture leads to wood rot, it can create an enticing entry point for a black widow. Here are a few other common entry points these spiders might use to get into a Bay Area home.
A gap under an exterior door that is missing a door sweep.

A gap in an exterior door that has damaged or worn out weatherstripping.

A gap in exterior double doors that are misaligned.

A crack in a foundation wall.

A gap around utilities and pipes.
Invest In A Pest Control Plan
You know we had to mention this one. We do what we do because it provides the best protection for Bay Area residents. Nothing works better to prevent unwanted encounters with harmful pests such as black widow spiders than to have a licensed pest management professional do routine inspections of your property. While you can do these yourself, a professional knows where to look, what to look for, and what to do when a black widow spider is found.
Bay Area Pest Control
If you've been thinking about investing in year-round pest control for your property, we'd love the opportunity to speak with you about your options. The team here at Bay Pest has the training, certifications, and expertise to help you find the right solution for your specific needs and budget.
Schedule Your Free Inspection
Complete the form below to schedule your no obligation inspection with Bay Pest.