Spring is about to spring. When it does, you may find hundreds of tiny winged insects crawling on the outside of your Bay Area property, and those tiny winged insects might just be termites. Spring is often considered the beginning of termite season, though termites can damage property in the Bay Area all year long. But the appearance of termite swarmers in the spring is the beginning of the life cycle, so to speak. Swarmers are female and male reproductives. The goal of these reproductive insects is not only to reproduce, but to create new nests. This is how termites spread. Each new nest that is created this spring increases the threat of termite damage. If you'd like to reduce this risk to your property, the termite control experts here at Bay Pest have some suggestions.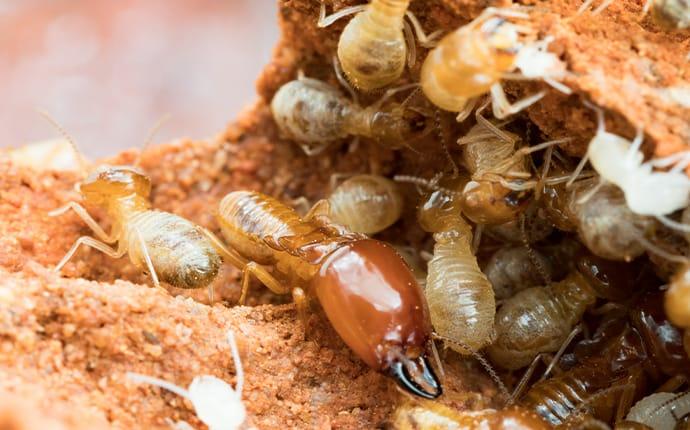 1. Reduce Food Sources On Your Property
When termite swarmers look for a place to settle down and raise a family, they prefer to find one that is abundant in food sources. The most desirable food source for termites is wood. Here are a few tips to remove the "food" from your property before spring.
Address any wood-to-soil contact. If wooden portions of your home, garage, deck, fence, or other exterior wooden structure touches the soil, this will create the ideal conditions for termite infestation.

Move brush piles, lumber, stacked wood, and other wood materials away from your home, or remove them entirely if possible.

Remove stumps, logs, and trees that have heart rot.

If you have crates, pallets, wood boxes, or other objects made of wood, elevate them to get them off the ground.

If you have cardboard, stacked papers, magazines, or some other paper product in your garage, shed, or exterior storage, elevate them and move them away from walls.

Refrain from burying wood on your property.
2. Reduce Moisture
Subterranean termites, which are the most destructive termites in the Bay Area, are attracted to moist habits. If you have damp ground around your home, these insects will be drawn to your property. Here are a few tips for reducing moisture.
Do an inspection of your gutter system and clean out any blockages. If there is damage to your gutters, splash blocks, or downspouts, get them repaired.

If you have sprinklers, make sure they are set to give your plants only the water they need, and have them run in the morning. This will give the sun time to dry the moisture.

Remove vegetation in your landscaping to let the air flow through your plants.

This dries the topsoil after watering, and after it rains.

Address any puddles. If water is collecting, you may need to adjust the grade of the soil.

Fix any plumbing leaks, such as damaged spigots, hoses, or pipes.
3. Reduce Entry Points
If Drywood termite swarmers visit your home, it is important to make it as difficult as possible for those alates to get into your home. Winged termites don't eat wood. So, sealing your walls can prevent a nest of wood-eating workers from being developed.
Inspect your windows for openings. This might be a damaged screen, a gap around a frame, an opening between a screen frame and a window frame, a broken windowpane, or a hole in a frame.

Inspect your doors for openings. This might be a gap in your weatherstripping, a damaged screen on a sliding glass door, a damaged or missing door sweep, a gap around a frame, or a hole in a frame.

Inspect your foundation. Any crack could give termites swarmers a way in.

Inspect around pipes and wires that penetrate your foundation walls.
4. Ongoing Termite Control
If you want the best protection possible, contact Bay Pest. We offer liquid and bait options for termite control. When termites enter your yard to start a family, these products will use the workers against their own colony, resulting in colony elimination. We'd love to talk to you about how this works.

Do you live in the Bay Area? Is your home ready for termite season? If not, reach out to Bay Pest today. We're standing by to assist you with this vital protection for your equity.
Schedule Your Free Inspection
Complete the form below to schedule your no obligation inspection with Bay Pest.