When bed bugs get into you're Bay Area home, you will want to get rid of them with extreme justice. Why would you react this way? Are bed bugs dangerous? No. They're not known to spread diseases and they don't have venom. They're just creepy. But the response we see regarding these pests is considerable. People don't want these bugs in their homes! So, what can you do about them? Join us today as we look at four things you need to know if you want to get rid of bed bugs. As always, if you want immediate help with your pest problem, navigate to our contact page for Bay Area pest control. Our service technicians are happy to help.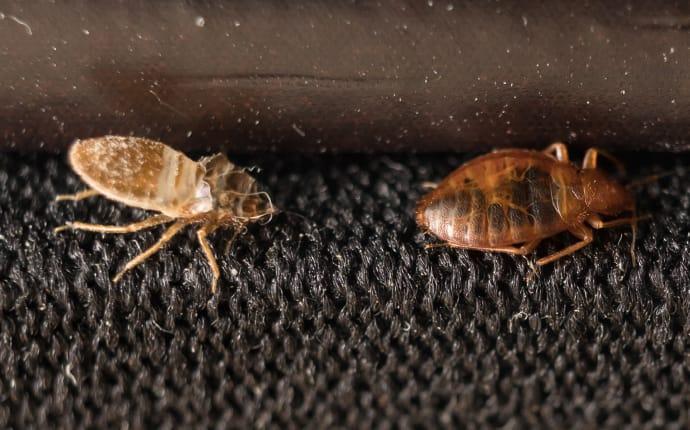 What Do Bed Bugs Look Like?
When you see a bed bug, you might not know it. Yes, really. You can misidentify a bed bug even if you've seen pictures of them. There are a few reasons why this is the case. Let's quickly break them down.
A baby bed bug doesn't look like an adult bed bug. When a bed bug hatches from its egg, it is about 1 mm long and white. Sure, it has six legs, three body parts, and two stubby antennae, like the adults; but it isn't the reddish-brown color you'd expect. It's also incredibly tiny. You'll have a hard time telling what that tiny little white speck is.
A baby bed bug looks red after a blood meal. The abdomen of a bed bug is transparent. It is also much larger than the head and thorax combined. When a nymph takes a meal, the red blood in its abdomen makes it look like a tiny red insect, not a pale-white insect, as you might expect.
A growing nymph can look tan and black or tan and red. The black coloration is black feces within the abdomen of the insect. The red coloration is blood. So, nymphs look different depending on whether or not they've recently fed.
An adult bed bug can look like a black insect. While not nearly as transparent as a nymph, you can still see the black feces or blood inside the abdomen of a bed bug. In dim lighting, an unfed bed bug can look like a tiny, black insect.
You can see a bed bug and not realize it. They aren't always the reddish-brown insects you've seen in news reports. They come in a variety of shapes and colors. It is a good idea to familiarize yourself with all of the many variations. There are references on the internet.
Why is it so important to know how to identify bed bugs? Won't you just know you have bed bugs when they start to bite you? Possibly. But in many cases, it isn't that easy. Some people have bed bugs for months and don't realize it. Others request a bed bug treatment because they think they have bed bugs and they don't. Let's take a moment to consider why it is hard to use bed bug bites as an early sign of bed bugs.
What Do Bed Bug Bites Look Like?
Bay Area residents often know a little about what bed bug bites look like but, as with bed bug identification, they're missing some information that would have helped them diagnose their pest problem. Here are some facts to help you figure things out.
Do you know bed bug bites are surrounded by a rash, and that the bumps are sometimes minor? If so, you might think you have bed bug bites when what you really have is a bumpy rash. Many things can cause a rash. You can have an allergic reaction to fabrics, food, or something else. You may also have another pest problem, such as a carpet beetle infestation. Carpet beetles lay their eggs in fabrics so their larvae can feed on the natural threads in those fabrics. Exposure to the hairs on carpet beetle grubs can cause a reaction that looks a little bit like bed bug bites. The key difference is that there is no pattern to the bumps of a carpet beetle rash. Bed bug bites, on the other hand, look like they follow a path across your body.
Do you know that bed bugs prefer to bite you while you're sleeping? If so, you might wake up with bites and think that you have bed bugs when you're actually getting bitten by outdoor insects. The reason for this is that it can take hours for insect bites to swell, itch, and develop a rash. You can get eaten up in the evening and not see or feel the bites, but wake up with all kinds of itchy wounds. When this happens, don't immediately assume you have bed bugs. Remember this wonderful and informative article and perform other checks to ensure you have a bed bug infestation.
Do you know that bed bugs bite more than once and that bites are often numerous? If so, you may think you have a bed bug problem when you notice many bites in one location. While there are only a few pests that will cause lots of bites all in one place, such as fleas or chiggers, it is rare—particularly with chiggers in the Bay Area. Having many bites is an indication that you have bed bugs, but keep in mind the places bed bugs tend to bite. They don't bite your ankles—like fleas do. They prefer to bite you on your upper body because they're attracted to the carbon dioxide you exhale. They also prefer to bite skin that is exposed during sleep. If you find bites around your waist where your belt holds your pants to your skin, those are chigger bites.
Bites alone may not provide all the evidence you need. We recommend checking for bed bugs and evidence of bed bugs in your home. To do that, you need to know where bed bugs hide and how to find bed bugs during the day.
How Can I Check For Bed Bugs?
You'll need a few tools for this job: A flashlight, a butter knife, and a vacuum. The vacuum is to suck up any bed bugs you find. You may get lucky and get the drop on them.
Where do bed bugs hide? These insects tend to stay together in an easy feeding location when they first enter a home. The most likely location is in or near your bed. Check these common places where you may find bed bugs immediately.
Check underneath the feet of the bed or nightstand. Bed bugs squeeze right underneath and tuck themselves in as far as they can go. Lift the furniture, suck them up with a vacuum, and dispose of the bag outside. That's it. You're done. Really! It can happen just like that.
Check between your mattress and box spring. You may lift the mattress up and see a dozen bed bugs huddled together in an area the size of your thumbnail. Suck them up quickly before they run for cover because they will definitely run for cover.
Use your butter knife to drag along mattress and box spring seams. Doing so may bring bed bugs, black feces, white eggs, or shed skins to the surface. If you find signs, you'll have trouble addressing bed bugs in there. Sorry. If you drag the bed outside, keep two things in mind. Put it fully outside—not in your garage. Label it so that no one mistakes it for a usable item and brings it into their house. Most of all, don't just throw it away. Getting rid of your mattress, box spring, or bed is costly, and it is not likely to arrest your infestation. You can get that item treated by a professional and keep it.
Inspect underneath mattress and box spring labels and around grommets.
Inspect your bed frame with your flashlight. Look into gaps, screw sockets, and cracks.
Check your couch. Bed bugs can bite you while you're fully awake and may establish themselves in areas where you sit or lounge. Look in every crack, crevice, pocket, and void.
The next step after finding bed bugs is getting rid of them. While there are steps you can take to address your infestation, it is far better to let a trained pest control service technician address your infestation.
How Can I Get Rid Of The Bed Bugs In My Bed?
If you're in the Bay Area, contact Bay Pest. We address bed bug infestations, both small and large. When you find bed bugs in your bed, we can treat it. When the bed bugs spread around your home, we can apply targeted heat or conventional treatments to arrest all activity. Are bed bugs in your walls? We provide fumigation services to eliminate every bug in your entire home. Connect with us and tell us about your bed bug infestation. We'll guide you toward the best solution for your unique bed bug problem. Jump to our contact page or give us a call for service.
Schedule Your Free Inspection
Complete the form below to schedule your no obligation inspection with Bay Pest.