What Every Bay Area Resident Should Know About Effective Flea Control
March 21, 2023
So, you've found yourself with a flea infestation on your hands. What's your next best step? That's the question we're here to answer.
In this article, we'll explain how fleas get into Bay Area homes and the best way to get rid of them. Or, if you're ready to receive excellent year-round pest management services, turn to our licensed technicians from Bay Pest. With our technicians by your side, you can say goodbye to pests of all shapes and sizes. We'll work hard to take care of all your pest control needs using top-of-the-line treatment methods. For years, we've worked closely with residents of the Bay Area to keep their homes and businesses pest-free.
Reach out to us today to schedule your free inspection or ask about our effective Bay Area pest control services!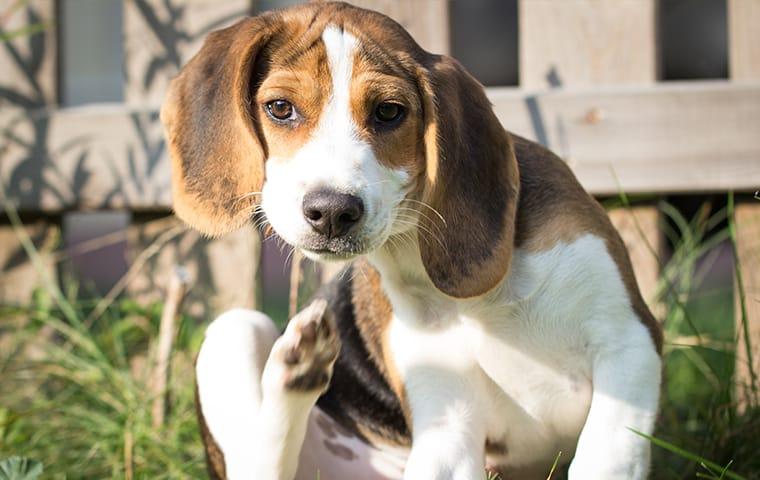 There Are Many Ways Fleas Can Infest Your Home
Many people falsely believe that fleas are only a problem for pet owners. However, this simply isn't the case. Fleas in the Bay Area can get into homes in many ways. Although owning a cat or dog may make you more likely to experience a flea infestation, fleas can also be brought to your property by wild animals. Squirrels, mice, rats, and other pests may introduce fleas to your home when they squeeze through gaps in your exterior walls or create nests in your attic space. Unfortunately, fleas reproduce rapidly, which makes controlling an infestation nearly impossible without professional help.
Let our technicians from Bay Pest take care of your flea problems. We're ready to provide high-quality solutions to eliminate fleas in all stages of life. Contact us today to get started with your first flea treatment or request an inspection of your property.
The Diseases Fleas Are Known To Spread
Surely fleas are too tiny to cause any real problems when they invade residential properties, right? Unfortunately, flea bites lead to more issues than some uncomfortable itching. One of the reasons why fleas are so stressful to deal with is because there's a chance these pests could transmit harmful diseases to your family and pets. Some of the most notable flea diseases include murine typhus, tularemia, bartonellosis, and tungiasis. In addition, these tiny insects can also spread parasites such as tapeworms.
The most effective way to avoid dealing with the problems fleas cause is to implement a professional home pest control plan from Bay Pest. We'll work quickly to identify the source of your pest problem and eliminate it. Get in touch with us today to find out how we handle flea infestations.
Five No-Sweat Tips To Prevent Fleas In Your Home
Flea control starts with putting into place a few prevention methods. Here are five no-sweat prevention tips you can implement today:
Check your pet's fur for fleas regularly. Grooming your pets and bathing them is a good place to start.
Keep your lawn and plants maintained properly; this includes trimming your grass and cutting thick vegetation away from your home.
Seal gaps in your exterior walls that may allow rodents and other pests to invade your home. Remember, your pests aren't the only animals that can bring fleas inside.
Vacuum your carpets, rugs, and furniture frequently; this will eliminate any solitary fleas before they have the chance to reproduce.
Give your pets flea medication or equip them with flea and tick collars. Not only will this protect your pets, but it will help reduce the number of fleas getting into your home.
If fleas get into your home despite implementing the above prevention tips, then it's time to contact our skilled technicians from Bay Pest. Whether you're dealing with fleas or other pests, we're ready to deliver excellent treatments to protect your home year-round. Contact us today to learn more about our pest control and prevention services.
How Do I Get Rid Of Fleas In My Home Fast?
When fleas invade your home, you want to get rid of them as soon as possible. Whether you're trying to keep your pets healthy or avoid the itchy bites fleas leave behind, your best solution is professional services from a trusted pest control provider.
The quickest and most effective way to eliminate a flea infestation is with professional flea control services from Bay Pest. It's our goal to manage pest problems so you can spend your time doing more important things. By utilizing high-quality products and proven control methods, we eliminate pest problems and prevent them from returning. Say goodbye to itchy flea bites when you partner with our professionals from Bay Pest today.
Previous
Next