Carpenter ants in the Bay Area are challenging to detect and difficult to control. These ants are somewhat secretive. If you want to protect your property, we have some great tips to share with you today. We'll discuss where carpenter ants create nests, how to detect carpenter ant frass in your home (and several other warning signs), and what works to get rid of carpenter ants. If you need immediate assistance, give us a call or reach out to us through our contact page for effective carpenter pest control in The Bay Area. You don't have to read a blog about carpenter ants to stop these ants from damaging your property. With that said, let's dive into our topics for today.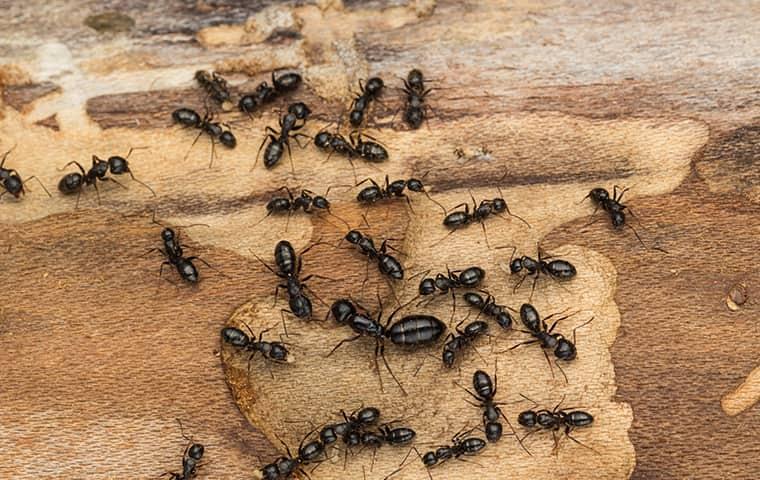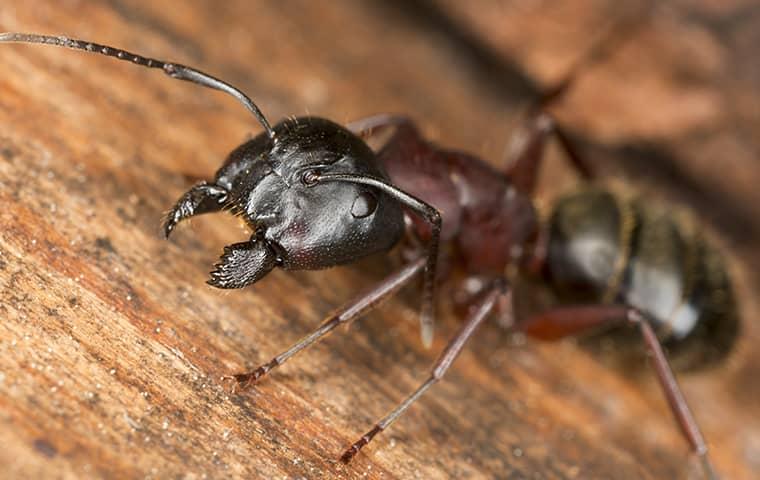 Carpenter Ant Nests: Where Are They?
There are many locations where carpenter ants nest. The more you understand this nesting behavior, the more success you'll have in keeping these ants from damaging your home. Here are a few examples.
In nature, carpenter ants nest in logs, dying trees, decaying root systems, and in other wood sources. If you have stumps or dying trees in your yard, you might have some trouble with carpenter ants. They can get into these, establish a nest, and begin to get into your home.
Carpenter ants get into brush piles. When you collect dead branches from your yard, larger branches might become a home for these ants.
Carpenter ants get into stumps and the soil underneath.
If you have wood borders around your flower beds or landscaping, carpenter ants may get into these and create a nest.
Carpenter ants target untreated wood first, such as wood used to build some fences and exterior decks.
Inside your home, carpenter ants will find untreated wood hidden in your walls, floors, and ceilings. They may nest in the wood or inside your voids.
When carpenter ants come onto your property or get into your home, you can expect them to nest in wood if they can. In some situations, they'll nest in hard ground, particularly if there are decaying roots in the ground.
Can You See Carpenter Ants In Your Walls?
While carpenter ants in wall voids or structural wood are impossible to see, you might see evidence that they're in there. What evidence? The appearance of frass. Often mistaken for sawdust, frass is a mixture of ant droppings, insect parts, and wood shavings. Carpenter ants create tiny kickout holes and push this material out. If you have carpenter ants in your walls, floors, or ceilings, you may see frass leaking out of a gap, crack, or hole. It may collect on a floor or surface or stick to the wall beneath the kickout hole. When frass appears in common areas of your home, it is a clear warning sign of a carpenter ant infestation. Unfortunately, these ants may not push frass out where you can see it.
If you want to find frass, the best place to look is in your basement or the crawl space under your home. It is more likely that carpenter ants will push the material out in secluded, dark, and dusty areas. These ants are nocturnal by nature and somewhat reclusive.
Frass isn't the only way you may detect carpenter ants in your walls. Here are a few more signs that you have carpenter ants hiding somewhere in your home.
Worker ants: It is typically difficult to actually see carpenter ant workers because they're active at night. But, if you're intrepid and don't mind exploring your property in the dark, you can use a flashlight to look for ant trails. Carpenter ants can travel quite a distance to get into your home. If you find the ant trails, they may lead you to where the ants are getting into your home and help you determine where and if they've created a nest in your home.
Ant workers vary in size because there are major and minor workers in a carpenter ant colony. These are large ants and range from ¼ to ⅝ of an inch in length. Depending on the species, they will be entirely black or a mixture of dark red and black.
You can also look for carpenter ants in your house at night, but it is more difficult. The reason they're more elusive indoors is due to their reclusive nature. You could stay up all night and never see these ants. But you don't have to stay up. If you place sticky traps in areas where you think there is carpenter ant activity, you could catch some.
Winged Carpenter Ants: These ants are called alates. They are reproductive ants that are looking to make new nests. They're easy to spot in your home because they're twice as large as the workers, and they have wings. Unfortunately, as obvious as these ants are, many people don't recognize what it means to find these ants in their homes. Here are a few things you should know:
Winged carpenter ants in your home are trying to get out. They didn't accidentally fly into your home as a group. They are a sign of a current and active infestation.
Winged carpenter ants are not an early warning sign. It takes years for a nest to mature and begin to produce winged ants.
When you see flying carpenter ants around your property, there is far less to be concerned about than finding them in your home.
Shed Wings: Carpenter ants shed their wings during the mating process. It is important to understand this as these shed wings might be the only warning sign you see. Why? It is because these ants get busy mating and finding locations to create nests. In under an hour, they can appear in your home and disappear into the cracks, leaving behind only their wings as evidence.
Wood Damage: Carpenter ants aren't like termites. They don't have a problem coming out of the woodwork. Therefore, it is possible to see some of the damage they're doing. If you see changes to wood in your home, it may indicate a carpenter ant infestation. Moisture-damaged wood is targeted first, so check water-damaged timbers first.
Ant Droppings: While not a sign that will let you know that you have carpenter ants in your home, it is evidence that you have an insect problem. Look for tiny black fecal pellets on food shelves in your pantry and kitchen. You may also see traces of frass.
Finding evidence of carpenter ants is bad. It is even worse to detect black carpenter ants in your home. The carpenter ants that are entirely black in coloration are a species referred to as black carpenter ants. They are the worst species in our area. Let's take a look at the dos and don'ts of addressing a carpenter ant infestation when you discover one.
The Dos And Don'ts Of Carpenter Ant Control
When Bay Area residents discover signs of a carpenter ant problem, they often attack the problem in ways that fall short of stopping these ants. Let's quickly look at some methods that don't work, then we'll look at some that do.
Don't use carpenter ant spray. Products contained in spray cans are topical and will not get into the locations where these ants are hiding. They treat the symptom, not the problem.
Don't treat surfaces. Carpenter ants will go around treated areas, and some products used to treat surfaces can make you sick.
Don't buy lots of products and experiment with them. The more you throw at these ants, the more difficult they may be to control.
Okay. Now that you know a few things that don't work, let's look at several things that do work.
Store your pantry foods in sealed containers to keep these ants from smelling your food or getting into food items.
Clean your shelves of food debris.
Put pet food down during the day but pick it up before nighttime when carpenter ants are active.
Repair leaking faucets and other plumbing issues.
Address humidity issues by installing a dehumidifier.
Properly identify the ants to select appropriate bait for control.
Seal entry points in your exterior to keep carpenter ants out. It is possible that they're not living in your home and this can stop them from entering and getting the bright idea that it would be fun to live with you.
One of the greatest challenges of carpenter ant control is species identification and bait selection. If you put down the wrong bait, you won't have any success controlling the carpenter ants in your home. If you put down the correct bait, but apply too much, you may cause the ants to become bait averse. A bait averse ant colony is more difficult to control. If bait is needed, it is best to contact Bay Pest for treatment.
Professional Carpenter Ant Control In The Bay Area
When you need help with carpenter ants or any other pest in the Bay Area, you can count on Bay Pest. Our service technicians are highly trained and experienced pest control professionals. They know how to unravel even the most mysterious carpenter ant infestation. We can help you figure out what these ants are doing and get them out of your home. Drop us a line or give us a call. We're here to help.
Schedule Your Free Inspection
Complete the form below to schedule your no obligation inspection with Bay Pest.